1986 SSP Mustang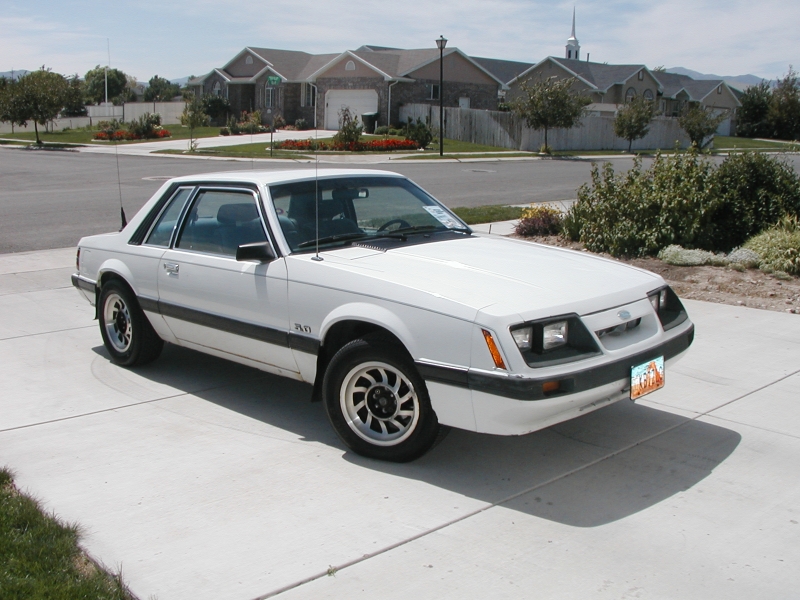 I purchased this 1986 SSP Mustang from the State of Utah in December 1989. It has been my daily driver ever since. It's been repainted, many years ago, and had the holes filled where the spotlights were. It was a "slick top" and only had rearview flashers. I guess it was used by the Provo, UT UHP, as I found a Provo "price guide" to trafic tickets when I was cleaning it out--also found a working stopwatch in it.

It came with the original police style wheels found on 1985-1986 SSP Mustangs, but at the time I was tired of all the attention I was getting on the freeways so I replaced them with the wheels that are in the above pictures. I now regret that decision and wish I had kept them. It has a full size spare which is the original however. I've been looking for a set of the original police style wheels, but they are very hard to find (at a price I can afford that is). In the mean time, I put on a set of wheels that came on 1986 GT Mustangs from Ford.

The engine is still the original and gets 20+ mpg highway and city and runs great, even with over 225,000 miles (as of 6 Aug 2015) on it! I've replaced very few parts on it, and the ones I do replace, are normally due to old age. Winter of 2001/2002 the clutch finally gave out on me and I had to replace it.

Speaking of winter, this car is an absolute nightmare to drive on slick roads! I don't know how those police officers would handle the car, because it spins out on practically the near mention of ice.

I replaced the AM only radio that it came with, but as you can see in the pictures, I never put the faceplate back on--it was a major pain (!) to get it in, and never got around to putting the faceplate on, even though it still sits in the trunk. I hooked up CB and HAM radios and two antenas on the trunk when I got it--I suppose that added to the "police" look when I originally got it.

I originally got this car because it was a very cheap 5.0 Mustang and I'm a Mustang fan. Didn't realize until many years later the significance of having an SSP Mustang, and have kept it since because of that fact.
| | | |
| --- | --- | --- |
| 338 Kb | 366 Kb | 355 Kb |
| 356 Kb | 351 Kb | 344 Kb |
| 384 Kb | 360 Kb | 325 Kb |
The Utah Highway Patrol used to have a page describing their history with the SSP Mustangs. An archive of it is here: https://web.archive.org/web/20141210053143/http://www.publicsafety.utah.gov/highwaypatrol/history_1989/mustang.html
The Emergency Vehicle Owners & Operators Association used to have some information about SSP Mustangs. An archive of one of their pages is at https://web.archive.org/web/20130405174256/http://www.evooa.org/mssr/mssr.htm.
Other great web sites for SSP Mustangs are: